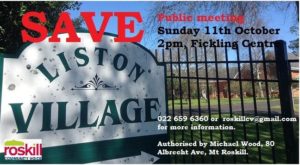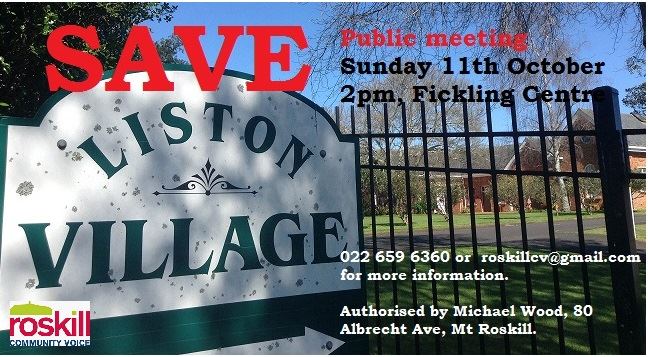 Press Release: Roskill Community Voice
Campaign to Save Liston Village launched – public meeting on 11 October
In the middle of a housing crisis, how can it be that Auckland Council is planning to demolish a thriving social housing community for Senior Citizens?", asks Roskill Community Voice member of the Puketapapa Local Board Michael Wood , who is organising a community campaign and public meeting to save Liston Village.
"Liston Village is a community of Senior citizens in Hillsborough. There are twenty five good quality units and it has been a part of the Puketapapa/Mt Roskill community since 1983. Under a deal between Council and the Catholic Diocese struck in the dying days of Auckland City Council, the Village will be purchased by Council. The current plan is to demolish the village to increase the entrance-way to Monte Cecilia Park"
"This plan made limited sense in 2010, and even less in 2015 during a housing crisis. Independent research commissioned by the Puketapapa Local Board confirms that there is a growing population of 'financially stressed' Seniors in Puketapapa/Mt Roskill, and that Hillsborough has the highest unmet need for social housing in Auckland".
"How can it be that the benefits of widening the entrance-way to Monte Cecilia Park outweigh the benefits of retaining a functional social housing community for our Seniors? How can it be that it is a good use of Council funds to demolish the village in a tight fiscal environment?"
"We are calling on Auckland Council to take the required policy steps to stop the demolition and retain Liston Village. A broad community coalition is coming together to support the campaign, and a petition will be launched at our public meeting on 11 October. Speaking at the meeting will be:
 • MP for Mt Roskill Phil Goff
• Albert-Eden-Roskill Governing Body member Cathy Casey
• Auckland isthmus Grey Power President Anne-Marie Coury
• Puketapapa Local Board member Michael Wood
"All are welcome to the public meeting which will be held at 2pm on Sunday 11 October at the Fickling Centre, Three Kings. Working together we can stand up for our Seniors, and convince Auckland Council to save Liston Village", says Michael Wood
The meeting on Facebook 
Meeting Sunday 11 October
2pm
Fickling Convention Centre 546 Mt Albert Road, Three Kings