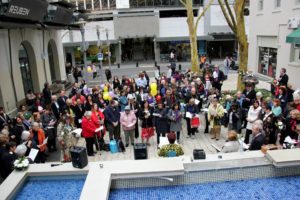 2013 marks 120 years of women's suffrage. In 1893, New Zealand became the first nation in the world to grant women the right to vote.
Suffrage Day (September 19) is a significant day in New Zealand's history and it is traditionally celebrated by individuals and organisations. .
NCWNZ 's traditional annual celebration of women's suffrage in Aotearoa New Zealand, takes place at the Suffrage Memorial at Khartoum Place.  This year we celebrate 120 years since women got the vote and 20 years of the Khartoum Place memorial, which was installed in 1993 for the centennial. Speakers will include: Mayor Len Brown, Pippa Coom on the role of bicycles in the suffrage movement, YWCA on their LoveNotes campaign, and more!
Thursday 19th September
12.30pm- 1.30pm
Khartoum Place