This report shows how busy our Waitematā and Gulf Councillor, Pippa Coom is.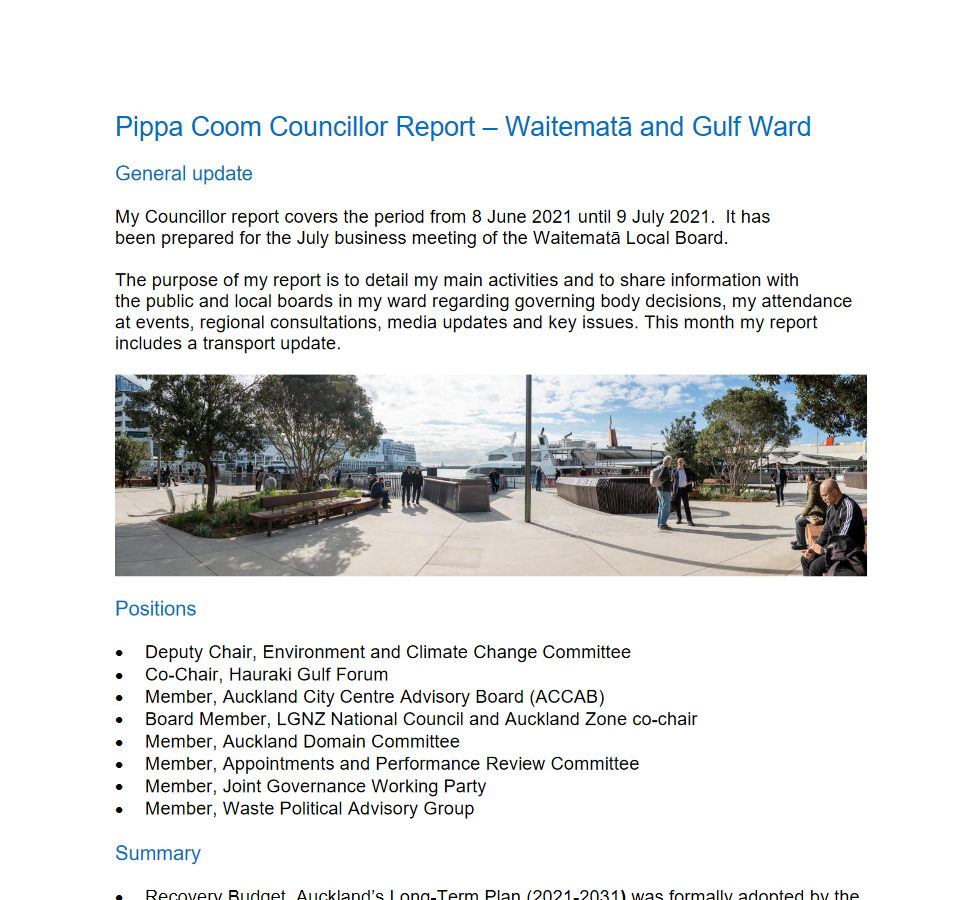 From our Facebook page
If you're voting in Maungawhau, make sure you tick Chrystal Thompson and the rest of our City Vision ticket for local board.
...

See More

See Less
We know a major reason people put off voting in local elections is the worry they will make the wrong choice.
Luckily, there's lot's of ways this election to find out more about the names on your ballot paper, and this long weekend is the perfect time to do you research.
First off- Us! City Vision is an alliance of Labour, Greens, and community independents aligned around core values. We are upfront about who we are and what we stand for, you can read all about us here cityvision.org.nz/what-we-stand-for/
But don't just trust us:
If you want to see and hear from everyone in one place, Auckland Council have put together a really thorough and easy to use tool. Just remember- these are what candidates say about themselves, so it's sometimes best to take with a grain of salt! www.aucklandcouncil.govt.nz/elections/information-for-voters/Pages/who-you-can-vote-for.aspx
Policy is an incredibly slick site covering the whole country (a mammoth effort) where you can compare candidates statements on, well, policy. It's independent and unbiased, but also features self submitted answers like the council site above. Just good to keep in mind for anyone promising world peace. policy.nz/2022
Advocates and activists have also given there more opinionated thoughts on where candidates stand on the issues they care about:
Generation Zero have been score carding local government hopefuls for nearly a decade. They grade candidates on climate justice localelections.nz
A broad coalition of unions, climate action, public transport, walking groups and cycling groups have come together as Vote Climate to grade candidates on public transport, walking and cycling. www.voteclimate.org.nz
Women in Urbanism are highlighting candidates who back their issues www.instagram.com/womeninurbanism/
And to check you aren't accidentally supporting candidates whoa re anti truth, Fact Aotearoa are collating media stories about candidates with misinformation or conspiracy theory links. factaotearoa.nz/misinformation-linked-candidate-media-roundup/
The important thing is that you make sure you do vote, and share this with your friends and whānau who might need some encouragement!
...

See More

See Less