Your Community Voice
In 2016 you voted for a strongly community-focused, City Vision team, on the Albert-Eden Local Board. Here's a report back on what Graeme Easte, Glenda Fryer, Peter Haynes, Jessica Rose and Margi Watson have achieved in that time.  We are bringing our wide-ranging skills, experience and vision to work for you and your community.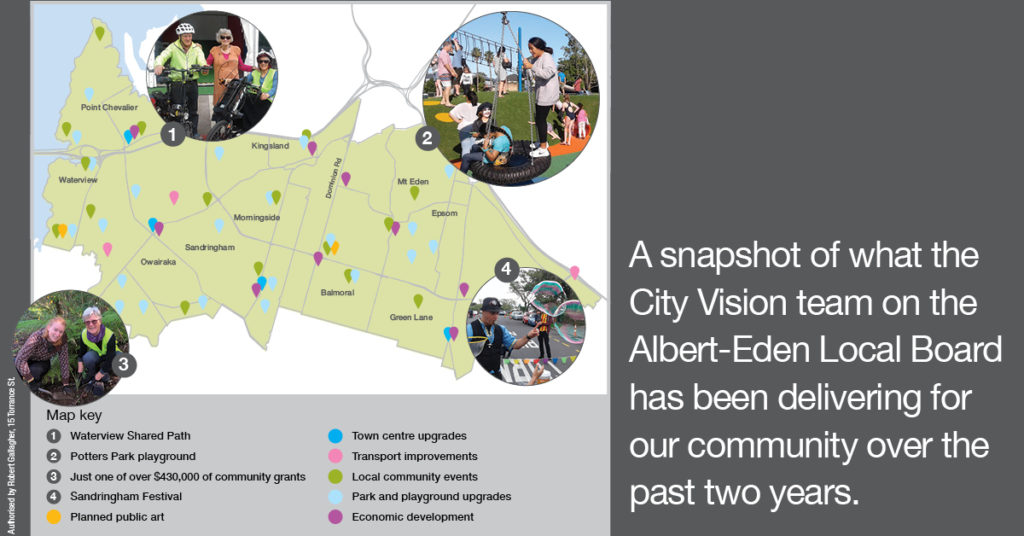 Parks and open space  
Opened a BMX track and skatepark at W

aterview Reserve

Renewed the netball and tennis courts

at Windmill Reserve

Completed the installation of Australasia's first community hybrid sports fields at Nixon

and Gribblehirst Parks

Opened the popular playground

and 'Learn to Ride' at Potters Park
Planning for the diversification of sport and recreation at Chamberlain Park in addition to it remaining a home for golf (more background here from Chair Peter Haynes)

Completion of 1 new field and planning for upgrades to 2 fields and new facilities at Phyllis Reserve

Park improvements in: Coyle, Anderson, Alan Wood, Delphine Fowlds, Louis Adolphus Reserve, Heron, Nicholson, Withiel Thomas, Gribblehirst, Windmill and Roy Clements Treeway
Environment
Funded community groups restoring the Te Auaunga/Oakley and Waititiko/Meola Creeks

Sponsored a Moth Plant Eradication Programme

for school students

Restoring rock forest at Oakley Creek, Almorah Rd and Thomas Withiel Reserve, and restoration planting at Windmill Reserve

Developed a strategic plan

for Te Auaunga/Oakley Creek
Sustainability
Village and town centres 
Planning underway for Greenlane, Sandringham and Pt Chevalier Town Centre improvements
Heritage
Community empowerment
Local economic development
Actively supported 9 business associations and groups
Events and arts  
Transport 
Children and Young People
Support our schools on their Enviroschools journey 

Upgrades to playgrounds in Eric Armishaw, Braemar, Murray Halberg, Gribblehirst, Nixon, Harwood, Melville, Nicholson, Centennial Park, Anderson
More highlights are in the Local Board Achievements report 17/18
The team's report back was delivered to households across the community over summer.
We are your representatives and are always happy to talk. Do get in touch.  Contact a board member directly or email City Vision at [email protected]