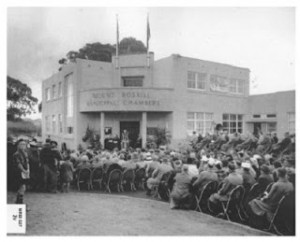 Roskill's heritage is rich and interesting. However, for a long time it has been neglected. We have lost many significant buildings over the years, we have fewer heritage protected buildings than any other part of Auckland, there is paucity of heritage signage in place, and a very senior Roskill councillor was once quoted as saying "Roskill has no heritage".
Over the last three years we have worked with the local community to turn that around. The achievements are now really stacking up, with Michael Wood leading work in this area as the Local Board's heritage portfolio holder:
Took steps to protect and preserve the historic block changing sheds at Waikowhai
Secured $150,000 to advance the first formal survey of Mt Roskill/Puketapapa's heritage with many key sites identified and proposed for protection under the Unitary Plan
Established an annual Heritage Forum to bring together local people with an interest in Roskill's history
Co-ordinated local events for the annual Heritage Festival in Roskill
Organised 2012's Heritage Art competition for local school students
Secured the restoration and return of the much loved 'Mayor Dick Fickling' portrait to the Fickling Centre
Established a Local Board collection of Heritage images, some of which are displayed in Fickling Centre rooms
Led the upgrade of St Andrews Reserve, 'the home of local government in Auckland' including heritage interpretive signage.
Secured funding for the installation of heritage interpretive signage around Roskill and ran a public vote to determine the priority sites. Installation commencing in late 2013.
Initiated and delivered the Suffrage Memorial in the Rose Gardens (corner Mt Albert Rd & Warren Ave), to be formally unveiled on September 19.
And then there's the work of the wonderful Mt Roskill (Puketapapa) Historical Society, led by Garth Houltam. The Society was only formed in 2011 but has done a power of work to get heritage on to the local agenda, and provide the Local Board with good information.
Finally, we are thrilled that the community campaign initiated by the Historical Society and supported by the Local Board to save the historic Mt Roskill Council Chambers has succeeded. A delegation of Board representatives including Julie and Michael spoke to the Strategy & Finance Committee of Council on Friday and received the thumbs up for a $3.6 million restoration plan that will see the original 1957 building restored. This came on the back of a 1000 strong petition from the Historical Society. A great win to cap off a great term for Heritage in Roskill!
We are taking a comprehensive policy on local heritage issues into the 2013 election which can be
viewed here
.
Latest update