It has always been a lynchpin City Vision policy that our publicly owned assets should remain in community ownership.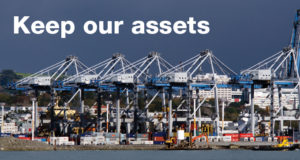 We believe that Auckland's strategic assets should benefit the people of Auckland, not just a small number of shareholders. Retaining control of key strategic assets ensures that the income stream from what are often natural monopolies, benefits the whole community. Public ownership also means that we retain control over key infrastructure, meaning that these assets can be leveraged to achieve better outcomes for the whole community.
The current Council, under Len Brown's leadership, has a strong record on this issue, with strategic assets remaining in public ownership. However we cannot be complacent. It was not too many years ago that the C&R Auckland City Council dispensed with publicly owned assets such as airport shares and pensioner housing. The later was an exercise in callous disregard for the vulnerable, with many older folks left fearful about the future, and was only resolved when the previous Labour government stepped in to buy the stock from Auckland City.
In the current term of Council our opponents have been muttering away about the need to sell key assets such as the airport shares of the port. We cannot let it happen.
Public ownership will be a key issue this election, and we are making our position clear – no asset sales with City Vision. We'll have more news about this issue over the coming week.