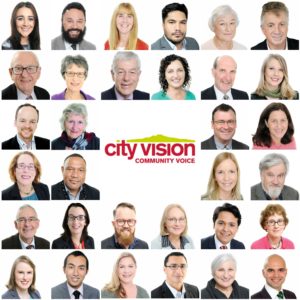 Introducing City Vision's candidates 
We are standing teams for the Waitematā, Albert- Eden and Puketāpapa Local Boards areas. Our candidates for the Puketāpapa Local Board stand as Roskill Community Voice. We also have a full team for the Auckland District Health Board (City Vision Health) and the Portage Licensing Trust.
Our candidates are grounded in the local community and will stand up for the things that matter to local people: transport choice & better, reliable public transport; affordable housing options; care for our environment and protection of our heritage; support for the arts and vibrant local events; keeping assets in public ownership; and, making Council work effectively through strong community engagement.
Our candidates:
The City Vision team is made up of a diverse group of Aucklanders, reflecting the communities we wish to represent.
Gender:  50% of our 32 candidates are women
Ethnicity & Nationality:  Our candidates identify with a range of backgrounds- Maori, Samoan, Tongan, Indian, Chinese, Columbian, Scottish, English, Italian and Pakeha. We are all Kiwi New Zealanders
Age: Our youngest candidate is 22.  Our most senior candidates are in their early 70's. We are all ages in between.
Residency: Candidates all have strong connections to Auckland.  Our candidates are a mix of home owners and renters.  Some of our younger candidates live at home.
Enrol and vote to be heard. Make sure you are enrolled to vote. Check by calling 0800 36 76 56 or go to elections.org.nz.
If you're not enrolled by Friday 12 August you won't get your voting papers sent to you in the mail. If you enrol after this date, you will have to request special voting papers from the Auckland Council electoral officer.
Your voting papers are posted from 16 September. If they haven't arrived by 20 September phone Election Services on 973 5212.
Post your vote not later than 5 October to get there by midday. Saturday 8 October – election day