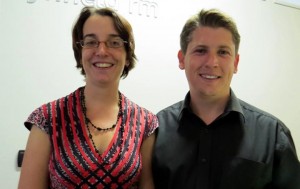 Julie Fairy and Michael Wood – have worked hard to win a fair deal for Roskill, and to deliver on their commitments
Local Heritage
Successfully advocating to protect local buildings such as the old Mt Roskill fire station and the old Municipal Chambers

Secured funding for the first ever comprehensive survey of Roskill's heritage

Led the installation of heritage interpretive signage around Roskill

Helping to set up the new local historical society

Working with the community to upgrade the Mt Roskill War Memorial
Parks and Open Space
 Leading major improvements at a number of local parks and playgrounds including Keith Hay Park, Fearon Park, Harold Long Reserve, Stranolar Reserve, Turner Reserve, and Walmsley and Underwood Parks.

Working to upgrade Keith Hay Park and secure an artificial turf for football.

Championing our beautiful Manukau Foreshore and plans for continuous coastal walkway between Onehunga and Blockhouse Bay.
 Supporting People and Community
Setting up local groups to connect people, such as the Puketapapa Garden Web.

Providing direct support to residents who need to raise issues with Council departments.

Giving the public a vote on the names of new Fickling Centre rooms.
Speaking up for our Community
Supporting residents with local issues such as opposing the poor siting of the Pah Rd Warehouse.

Standing with local residents to secure a sympathetic and community focussed re-development of the Three Kings quarry with a focus on restoration and open space.

Advocating for residents to know more about resource consent issues.
Reducing Harm in our Community
Pushing for a sinking lid on pokies in Roskill and standing against the Sky City pokies deal.

Opposing new off-license liquor outlets in our community

Making our local playgrounds smokefree.
Financial Responsibility
Continuing to oppose massive expenditure acquiring property for Monte Cecilia Park.

Encouraging a sensible negotiated end to the costly Ports dispute.

Advocating for fairer rates and a lower average rate increase for our area.