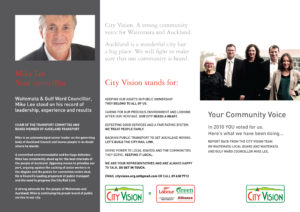 Report card published in October 2012
Waitemata & Gulf Ward Councillor, Mike Lee stood on his record of leadership, experience and results. He is  Chair of the Transport Committee and Board member of Auckland Transport.
Mike is an acknowledged senior leader on the governing body of Auckland Council and leaves people in no doubt where he stands.
He has consistently stood up for the best interests of the people of Auckland, opposing moves to privatise our port and arguing against the sacking of union workers in the recent dispute. He has stood against the pokies for the convention centre deal, and is Council's leading proponent of public transport and the need to progress the Central Rail Link.
A strong advocate for the people of Waitemata and Auckland, Mike is continuing his proud record of public service in our city.
(Mike Lee is a City Vision endorsed Councillor)