City Vision continues to plan to open up Chamberlain Park to more people, improve the ecology and water quality of Waitītiko Meola Creek, and enhance local accessibility and connectivity. 
2022 sees the team seeking election to progress plans to share the suburban park.
Imagine a big, new park in your neighbourhood
Open space to play, picnic, stroll, jog and take the kids

Restoration of the Waitītiko Meola Creek stream improving habitat and water quality to the harbour 

A playground for children

Public toilets

A space suitable for outdoor movies and events 

Thousands of native trees planted to bring birds back to the park

A new path connecting Mt Albert to the Northwestern Cycleway

Walking and cycling connections that make sense for locals
And all while minimising the impact for golfers on the eastern side of the Waitītiko Meola Creek
Renewing the current facilities including a refreshed clubhouse 

A café that meets the needs of golfers and park visitors

Greens that are enjoyed by golfers of all abilities 

Configuration of the greens would be guided by discussions with experts, staff and golfers to achieve the best golf offering for the local community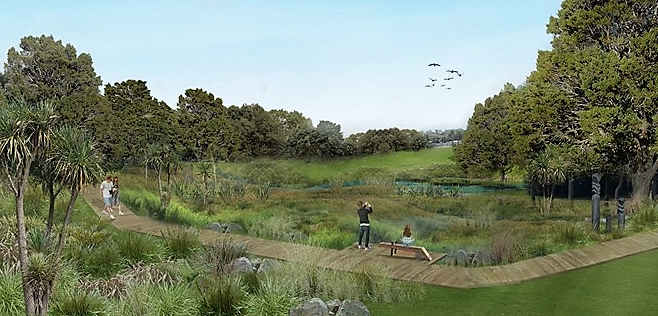 Credit: Chamberlain Park Master Plan, Auckland Council
We're excited about the plan because it means Chamberlain Park will provide wonderful spaces for all people to enjoy – especially those who live nearby.
 Why change is needed
Currently only golfers can use Chamberlain Park, we'd like to see the park shared 

By opening up the park, the community gains open space roughly double the size of Coyle Park in Pt Chevalier for the thousands of families who live nearby

It creates a new, much needed, local park in an area with a growing population 

Restores a kilometre of degraded stream, Waitītiko Meola Creek currently sits in a concrete-lined drain 

Provides safer walking and cycling access into parts of Mt Albert, reducing the need for cyclists to use Carrington Road

Unlocks opportunities for Rawalpindi Reserve as the new local park will connect into it 

Creates an enhanced habitat for biodiversity

Creates local spaces for wellbeing and enjoyment
Caption: City Vision wants to see Waitītiko Meola Creek restored similarly to Te Auaunga Oakley Creek in Mt Roskill, where the concrete channel was removed and the natural flow and environment restored. 
Fact check 
Albert-Eden and Waitematā Local Board areas have

the least

open space per person in Aotearoa

Significantly more people will be able to use the park if it is opened up to share 

The park will remain open space and

will not

be used for housing

While some trees will be removed,

thousands more trees and plants

will be added to create an improved habitat for native wildlife

There are more than 30 golf courses in Auckland, most of which welcome casual players 

Agri-chemicals on golf courses have ecological impacts and we want to limit their use.

Waitītiko Meola Creek has poor water quality and needs restoration and riparian planting

Watercare have started ecological restoration in a southern area of the park as part of the Central Interceptor project

Rawalpindi Reserve is currently underutilised because of its topography, layout, limited access and small size 

Our experience with the pandemic has shown that easy access to open spaces is critical for health and wellbeing now, and into the future 
By sharing Chamberlain Park, everyone benefits.