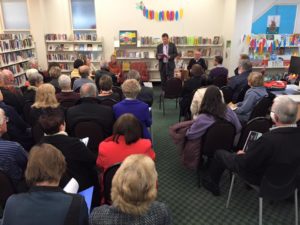 Book Launch 'Parnell Baths: a jewel in Auckland's crown', 4 June 2015
Good evening ladies and gentleman. Thank you all for being here to share this occasion. I am Shale Chambers, chair of the Waitemata Local Board of Auckland Council, your  MC for this evening on behalf of Parnell Heritage, and first speaker.
Welcome to the launch of the beautiful publication, 'Parnell Baths; a jewel in Auckland's crown'.
We will shortly hear from Mary Barry, Chair of Parnell Heritage. Joe Griffin, Managing Director of Community Leisure Management will follow. Then we'll hear from the book's author's themselves, Dr Joanna Boileau, and Sue Monk.
Last year we celebrated the 100th year anniversary of this Auckland's only saltwater swimming pool – when opened 'the biggest seawater pool in the Dominion' – an icon, tourist attraction and beloved local facility. The Baths have had several makeovers over the last century, in response to dips in attendance, and often under threat Auckland has risen to the occasion of ensuring the Bath's preservation.
Turning 100 gives you the opportunity reflect on the pool's history… and what a history it has had! Council staff and members of the Waitemata Local Board had been reflecting how best to acknowledge this milestone in Parnell and Auckland's history. In late 2013, when Parnell Baths' Centenary was drawing near board member and the sport and recreation portfolio lead, Greg Moyle approached Parnell Heritage to develop a book documenting the rich history of Parnell Baths, and the Board offered its financial support for the project.
We were very pleased when Dr Joanna Boileau and Sue Monk and Parnell Heritage took up the challenge, and have delivered an exquisite job of providing us with a detailed and lively account of the past 100 years of the life of Parnell Baths. That Parnell Heritage was involved should be of no surprise. Parnell Heritage has a proud history of striving to further the preservation, study, knowledge and dissemination of information about the heritage of Parnell. This publication stands as further testimony to that record.
Swimming is not only an important leisure activity, it is an imperative life skill for New Zealanders and local pools such as this are considered by many as the heart of a healthy community. We are hugely proud to have Parnell Baths, a jewel in our crown, right here in Waitemata Local Board area. A facility that caters for children, young people and the family as a whole. We have striven to ensure Parnell Baths future security and like many in this room we will continue to do so. We are proud and delighted to have stewardship of this great public facility, with such a heritage, as this offering to Aucklanders.
This publication helps re-emphasise the importance of Council and Waitemata Local Board continuing to work together with the Parnell community and local businesses, to ensure the Baths remain with us for at least another century. Like all here, I look forward to reading the book and the memorable stories it contains.
Thank you to Joanna, Sue and Parnell Heritage for your welcome addition to the literature of local history.