City Vision is an organisation that supports our candidates and communities throughout the electoral cycle. We don't just come together at the beginning of an election year and then shut down again when the election is over.  We are here to support our elected members as they work with you to make strong communities. We encourage our elected representatives to report regularly on their activities.
Board member reports are available on Local Board monthly agendas (search Albert- Eden Local Board, Waitematā Local Board or Puketapapa Local Board)
Pippa Coom and Vernon Tava, members of the Waitemata Local Board both post their reports on their own websites
Here is the latest report from Waitematā Local Board Member  Deborah Yates.
November Board Report 
This has been a big month (October 2014) for the Auckland Council with the proposed changes to the Long Term Plan and the CCO review. Historic for the city and momentous to a new girl on the block. As disappointing as parts of it are, I've been heartened by the proactive response from Local Boards and their chairs. Time will tell whether we've been heard.
Portfolio Milestones
Natural environment
The Resource Recovery Network strategy paper, budgets and site selection criteria were endorsed by the Regional Strategy and Policy Committee on the 9th. This meant they agreed:
a) to the Resource Recovery Network strategic direction
b) to the site selection criteria for community recycling centres
c)  in principle, to the budgets set out in the Resource Recovery Network strategic direction and budget document, subject to the prioritisation of council activity within the 2015-25 Long Term Plan process
We're now hoping that selection of a possible site for the Central Resource Recovery Centre can be progressed.
I am also very grateful to Matt Bloxham, Senior Regional Advisor (Freshwater)Environmental Services, for the delivery of his in-depth report on waterway rehabilitation options in our area. Matt has done a detailed survey and devised a method of prioritisation so that we can consider a site for rehabilitation over the next three years – budget willing!
We were treated at our portfolio meeting to wonderful Diwali food by staff member Varsha Belwalkar, who looked resplendent in national dress.
Community Development
Kelly Maung, Project Leader-Violence Prevention for Auckland Council, informed us about the Multi-Sector Action Plan to prevent family, whānau and sexual violence, which has been endorsed by central government and embedded within the Auckland Plan. This is a tremendous step forward. The focus is likely to be on primary prevention. (See extract in appendix to this report from summary document 'E Tu Tāmaki Makaurau')
I have also been attending the occasional Saftinet (Central Auckland domestic violence network) meeting. At the last one I met Mark Langley, from White Ribbon, whose daughter Emily was tragically murdered by her boyfriend in the UK. Mark is now determined to help make sure that our daughters and others do not meet a similar fate. White Ribbon Day is on 25th November each year.
I also met Peggy Link, of the SPCA, who is part of the Link programme (no relation) which works across disciplines to help alert cases of animal cruelty to domestic violence and child protection services (and vice versa) as this is seen as a potential sign of wider cruelty.
Bold new signage at the Grey Lynn Community Centre, indoors and out, makes it super easy for all to see what Grey Lynn Community Centre is all about.
Outside, no one's likely to miss the GLCC or what it's offering. Inside, it's very clear where the rooms are and which events are happening in them.
Other news from GLCC: They have instituted an Auckland Council waste recycling system and have their users and cleaners trained to use it correctly. They are looking forward to getting automatic doors installed at the front of the building and a more accessible walking surface in the playground
Children and youth sub-portfolio
This is to now be the official name, having been the Youth Portfolio until now, although I had already considered it both.
I am delighted that the WLB have agreed to sign up for accreditation from Child Friendly Cities, although we'll be a Child Friendly Local Board Area, and hopefully the first, if we work hard at it. This is a UNICEF initiative which Auckland Council endorses.
We're looking forward to working with Izzy Lenihan-Ikin, our Youth Advisory Panel member, and Claire Stewart as they connect with Waitemata youth online to develop youth-led projects. We're also excited about the Children's Think Big project which the YMCA will run with local primary and intermediate schools.
Some events attended: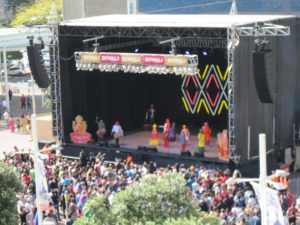 Diwali Festival opening (11th) This was as colourful as ever, including the line-up of VIPs on stage (prior to this photo), with David Parker, John Key, Penny Hulse and Sir Richard Hadlee. Hadlee got the biggest ovation. The dance, food and crowds provided plenty of noise and atmosphere.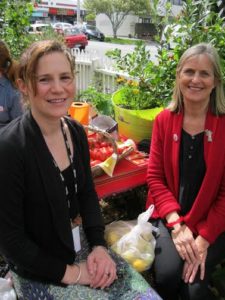 Wilton St Gardens (17th). The amazing Fionna Hill has reconstituted the (albeit reduced) Wilton St Community Gardens, with the help of some enthusiastic mums and dads and their small children. They held a picnic there to celebrate it and I was lucky enough to join Claire Stewart and others from the Arts and Culture team at Community Development to admire the gardening and taste the wares. Fionna and team meet there every Friday to plant and potter.
POP 10: The Launch of Hauora Gardens at Studio One Toi Tu (18th)
A piece of overgrown land behind Studio One has been cleared and redesigned as a peaceful garden to retreat to and contemplate in. We got to meet the artists, Richard Orjis and A.D. Schierning, and were treated to a performance by mysterious masked men. New facility director, Echo Janman, was there and met Local Board members for the first time.
Arts Access, Studio One Toi Tu (28th).
This included two important events: the opening of an exhibition of impressive work by several artists from the SPARK centre, including our local Allyson Hamblett, who also features in one of 5 posters being launched at the same time of artists from around NZ. The posters are designed to help people change their attitudes and behaviour towards artists who live with disability. Penny Hulse spoke and Cathy Casey took lots of photos.
Samoan Business Network evening at The Works hair salon in Grey Lynn (28th) This was a great night, with lovely food, fruit punch and spunky people. And I won a bottle of wine! We had an inspiring talk from Sina Wendt-Moore youth mentor and CEO of Leadership NZ (I sat next to her illustrious author father Albert while she was speaking).
Amongst others, I got to talk to guitarist and teacher Lance Su'a, Margaret Murray from the ANZ and Wyndi Tagi and her husband who own a financial consultancy.
Youthtown's AGM (29th) This was a lively evening also, set on the waterfront at Westhaven. The number attending was higher than usual, due to the recent decision of the Board not to return to Youthtown's home of 46 years in Nelson St, after it was found to have been badly contaminated by lead from the shooting gallery which operated from there for many years. They continue to provide services and are based across the road.
Many people attending had 'grown up' at No 46 from early childhood and some had subsequently worked there and sent their own children there. Concern and grief were expressed about the closure. Michael White, Board Chair, offered a further meeting with the Board for people to hear and see all the reasons for the decision and to listen to ideas people have about the future. The Board has yet to make further decisions about the property.
The other conclusion the Youthtown Board came to after careful consultation was that central Auckland does need a youth facility (although they are not in a position to provide it). This is of interest to Waitemata Local Board which has undertaken to look into the need and viability of a youth facility in its new 3-year plan.