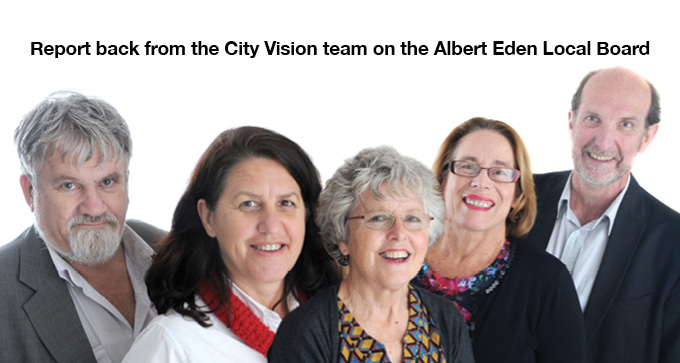 Your Community Voice
In 2013 you voted for us, here's what we've been doing.
Report back of the City Vision team on the Albert-Eden Local Board. Helga Arlington, Graeme Easte, Deputy Chair Glenda Fryer, Chair, Peter Haynes and Margi Watson are bringing wide-ranging skills and experience to work for you and your community.
Financial management

Close scrutiny of budgets with a tight rein on costs


Lowest operational spending per capita in Auckland and underspent capital budgets


Met parks, libraries, and community facilities needs
Village and town centres  

Secured budget for town and village centre renewal


Point Chevalier plaza upgrade, completed in 2015 


Mt Albert Town Centre upgrade underway
Parks and open space  

Opened the popular splashpad at Potters Park


Renewed playgrounds at ten parks and reserves 


Commenced upgrades at Sainsbury Reserve and  Nicholson Park


Planned for sportsfield upgrades at Nixon, Fowlds, Gribblehirst, Phyllis and Walker Parks
Environment

Funded community groups restoring the Oakley/Te Auaunga and Meola/Waititiko Creeks


Restoring rock forest at Oakley Creek, Almoragh Rd and Thomas Withiel Reserve, and planting Windmill Reserve 


Co-developed a case for a waste recovery centre for the central isthmus
Community empowerment

Initiated community-led planning in Sandringham


Worked with community groups on projects like the Bright Street butterfly mural


Funded over 40 community projects
Local economic development 

Actively supported five business associations


Helped fund the Point Chevalier, Dominion Road and Sandringham markets
Events and arts  

Helped fund the Albert-Eden Schools Cultural Festival, Sandringham Spring Festival, Brazil Day Fiesta, Elevated

Family Park Jam, Sandringham 


Holi Festival and Carols by Candlelight


Funded Neighbours Day and Kids in Parks events 


Launched the 'Billy App' for the Billy Apple art walk
Transport  

Working to ensure Albert-Eden people can move around safely and easily


Worked with Auckland Transport to deliver traffic calming projects 


Planned greenway developments for 2015–2016 


Advocated for a city fringe residential parking zone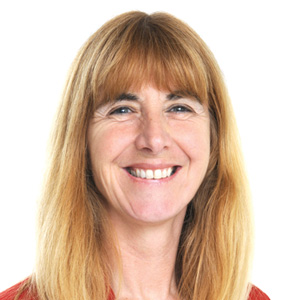 Cathy Casey your Councillor for Albert-Eden-Roskill 
Cathy speaks up fearlessly for local residents
Dr Cathy Casey is considered to be one of the hardest working, most principled, and accessible Council members.
Experienced and committed, Cathy has been one of Council's leading advocates for more transparency and accountability.
She fearlessly speaks up when Council isn't listening to residents, and was a vocal critic of the recent unfair rates rises that affected Albert-Eden. As Chair of the Community Development and Safety Committee, Cathy has been leading debate on 
many pressing social issues such as homelessness, appropriate housing for the elderly, and the impact of pokies and alcohol on our community.
Cathy stands up for many important local issues. She has been a strong voice at the Council table to support local projects such as the Mt Albert town centre upgrade, and in support of local resident's concerns around Unitec's and Eden Park's development plans. She's a great dog advocate and is often to be found early in the morning enjoying our local parks.