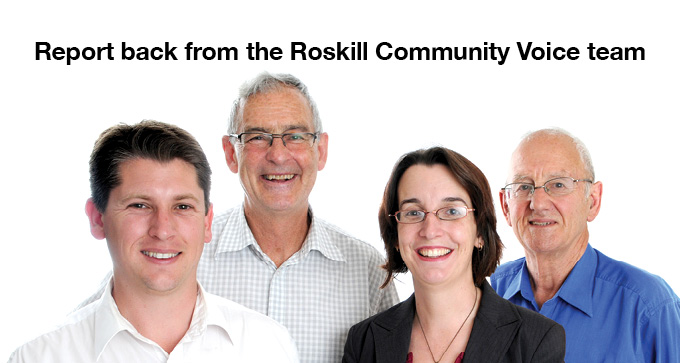 A Voice for Puketapapa
At the 2013 local elections we committed to being a strong community voice for Mt Roskill/Puketapapa if elected to the Local Board. We were honoured to receive your trust and win a majority.
Since then we have focussed on winning a fair deal for our community. We have worked constructively to get results, and spoken up for Roskill where necessary.
We are an effective local team driven by our love for Roskill and a belief that our community needs to be heard.
This report-back is a way of being accountable back to you as local residents. We welcome your feedback.
Your Roskill Community Voice team of Harry Doig, Julie Fairey, David Holm, and Michael Wood have wide-ranging skills, experience, and a fierce commitment to being a strong voice for Puketapapa/Mt Roskill.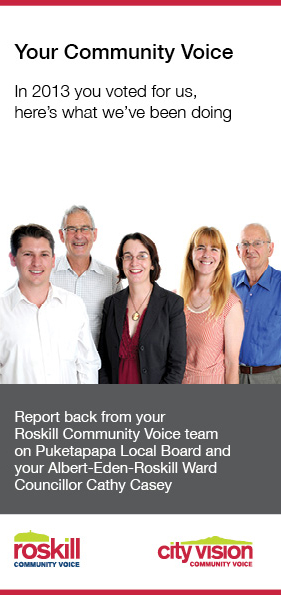 Parks and open spaces
    
Successfully won funding for the Waikowhai


Coastal Boardwalk, construction starting soon 
         

Led upgrades of local playgrounds, Fearon Park, Turner Reserve, and Monte Cecilia Park
    

Worked with the community to design the Mt Roskill Wall Memorial and Roll of Honour

 Speaking up for our community  
  
Speaking up for fairer rates and lower average increases for Puketapapa residents 
   

Supporting a Living Wage for our families


Opposing new off-license liquor stores and standing against more pokies in our community

 Environment and heritage  
   
Leading naturalisation of Oakley Creek/Te Auaunga
   

Advocating for a healthier Manukau Harbour, supporting restoration of our Maunga and retention of the cross/star
      

Campaigning to Bury the Pylons
      

Celebrating Roskill's heritage with new signage and booklets
 Supporting our local community  
  
Developing a local Economic Development Plan to support local businesses
    

Increased grants to local community groups 
  

Funded more local events
    

Built high levels of community participation into Local Board plans and projects
    

Campaigning to save Liston Village from demolition

 Real transport choices
      
Making local streets safer including new pedestrian crossing on Mt Albert Rd


Championing safe walk and cycle routes and the Dominion Rd upgrade
   

Supporting light rail to Roskill

 A better way for Three Kings  
       
Stood with the community to oppose the insensitive Fletchers development
  

Opposed 'land grab' of our public open spaces
       

Presented an alternative development plan that delivers appropriate housing, an integrated town 

centre, rehabilitation of Big King, and a more connected community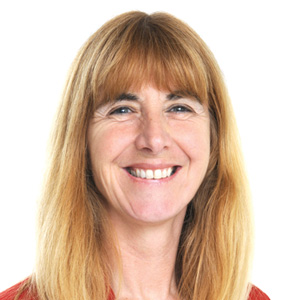 Cathy Casey your Councillor for Albert-Eden-Roskill 
Cathy speaks up fearlessly for local residents
Dr Cathy Casey is considered to be one of the hardest working, most principled, and accessible Council members.
Experienced and committed, Cathy has been one of Council's leading advocates for more transparency and accountability.
Shespeaks up  fearlessly when Council isn't listening to residents, and was a vocal critic of the recent unfair rates rises that affected Albert-Eden. As Chair of the Community Development and Safety Committee, Cathy has been leading debate on 
many pressing social issues such as homelessness, appropriate housing for the elderly, and the impact of pokies and alcohol on our community.
Cathy stands up for many important local issues. She has been a strong voice at the Council table to support local projects such as the Mt Albert town centre upgrade, and in support of local resident's concerns around Unitec's and Eden Park's development plans. She's a great dog advocate and is often to be found early in the morning enjoying our local parks.