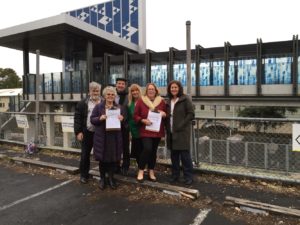 City Vision elected representatives in the Owairaka ward are fed up with broken promises by Auckland Transport on the funding of the Mt Albert rail station over-bridge, and have started a petition to gain public support against the Great Mt Albert Rail Over-bridge Robbery.  
Earlier this year Albert Eden Board Chair Peter Haynes, Board Deputy Chair  Glenda Fryer and Transport portfolio holder Graeme Easte, met with David Warburton and were assured that funding for completion of the Mount Albert Station was in place.  
On that basis your elected representatives continued to plan for the Mount Albert Town Centre renewal, and in particular the new Town Square which will connect directly to the new bridge which AT will build to connect to and from the rail station as part of the Mt Albert Transformation project.  This project has been closely followed by the local residents and businesses,  and there is extremely high expectation of successful implementation over the next 6-9 months.  
Last week the Board were informed that although the design is now complete, work on gaining permits, pre-fabrication of the bridge beams, etc. has been paused because Auckland Transport has no budget for it.  This project MUST proceed in December as it can only be done during the annual  block-of-line at Christmas and it is a necessary precursor to the much delayed Mount Albert Town Square.  
The bridge costing has now been fine-tuned at $1.23 million and AT expects the Board to pay for all of this – but this has come at the 11th hour and will gut our already heavily depleted budget (site acquisition has cost far more than anticipated) leaving virtually nothing for the Town Centre upgrade.
Sign the petition here