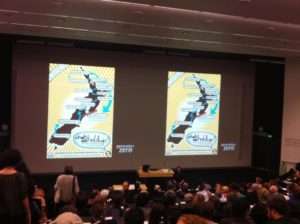 In welcoming the packed house at the Auckland Business School last night for the Generation Zero – What's the Hold Up speaking tour Dame Anne Salmond said she was inspired and moved by today's young people who are more visionary than our current leaders.
Her job was to do the welcome and then "move out of the way" to allow the line up of young presenters to  cover their plan for getting NZ moving on climate change.
In outlining options for smart energy solutions Generation Zero's Louis Chambers and Paul Young went through how this can be achieved for Transport, Heat & Industry and Electricity. They also showed the excellent Campbell Live video on the Congestion Free Network – the network  developed by Generation Zero and Auckland Transport Blog that has the potential to move Auckland to a low carbon city.
Progressive members on Auckland Council – Cr Wayne Walker (who arrived on the Mayor's electric bike), Cr Ann Hartley, Kaipataki Local Board member Richard Hills and Pippa Coom and Christopher Dempsey from the Waitemata Local Board,  were there to support Generation Zero's call for action.
Generation Zero are also doing a great job encouraging young people to get enrolled and vote at the election coming up in September. They are making the local elections easy with this online guide. As Generation Zero says  "vote for a future that's not shit"!