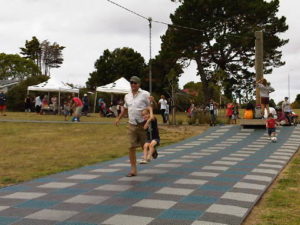 One of the key projects that Margi Watson, Deputy Chair of the Albert Eden Local Board has pushed is for free, community based, family friendly events. No such events had featured on the Council agenda and it needed to change. "On the ground, there appeared to be little recognition from Council on the important role of families in creating connected and safe communities. By linking with local schools and other organisations we were able to deliver events that were economical, provided financial support for schools and provided families with an excuse to get out and enjoy their parks even more".  says Margi
Six events were held across Mt Eden, Owairaka, Point Chevalier and Mt Albert. Margi says they were a success and community feedback has been extremely positive.   One of the local event goers gave feedback that " The events cater for all ages, are great fun – I didn't realise that I would have to play with my kids but it's a great idea…definitely do it again next year".
Margi intends to continue the initiative in 2014  if re-elected to the Board.