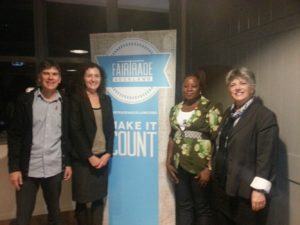 In 2011 the City Vision led Waitemata Local Board was the first Board to support Fair Trade and the vision of making Auckland a Fair Trade City.  A year later with the support of the Mayor  Auckland was declared Fair Trade.
At the Fair Trade Auckland Power of You celebration last night Deputy Chair Pippa Coom joined Cr Wayne Walker and Deputy Mayor Penny Hulse to hear from Rose, a cocoa farmer from Ghana who highlighted the many benefits the fair trade premium has brought to her village including clean water.
Penny also spoke about how much Fairtrade certified product has been consumed at Auckland Council in the period May 2012 (when Auckland became a Fair Trade City)  – 23 January 2014
10,905kg of  fairtrade coffee
2,796kg of fairtrade hot chocolate
1430 kg of fair trade instant coffee
4290kg of fair trade sugar
and a staggering 1,253,250 tea bags!
In total this has returned more than $20,000 in fair trade premiums to producers.  It really shows the Power of You and the direct benefits of purchasing fair trade.
Fair trade fortnight 3 – 18 May 2014