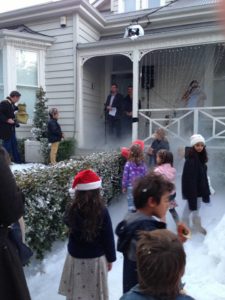 Last night ( 1 December 2014 ) Shale Chambers, Chair of the Waitemata Local Board spoke at the opening night of the famous Franklin Road lights.
Tonight I'm here to acknowledge a special bunch of people; the residents of Franklin Road.
Thank you for sharing your street, your front yards, and your Christmas spirit.
You have long been willing to live at the back of your homes during December to allow Auckland to share your gift to Auckland out front of your homes.
This annual Christmas gift by the residents of Franklin Road to the people of Auckland is one of Auckland's true gems, and gets better and more awe inspiring with each passing year.
It all began 21 years ago, and a tribute goes to its originator, and organiser-in chief, Ross Thorby.
Presumably Ross has his amazing 40,000 bulbs on display on his home once again this year.
It has been the Waitemata Local Board and its members' privilege to give a little support to your community event, with some of the lights on public buildings in past years, by supporting the fun opening night street celebration, and ensuring the street is kept clear of visitors' rubbish.
It is the least we can do on behalf of the 100,000 Aucklanders who come to enjoy your gift and marvel at your generosity each year.
The Franklin road Christmas Lights represent all that is good about both community spirit and the Christmas season.
So on behalf of your wider community we thank you.
Enjoy the night.