The Roskill Community Voice team, who are standing for the Puketapapa Local Board had a successful launch of their Vision for Three Kings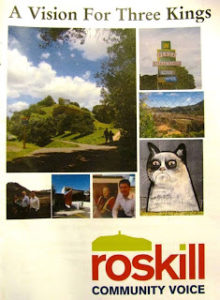 policy package over the weekend.
The RCV team, who have been represented by Julie Fairey and Michael Wood on the Board over the past three years, have been working with local people and groups to deal with a complex set of development issues in the Three Kings area. With a major residential development likely to happen in the quarry, and Unitary Plan changes on the horizon, we know that change is coming. The key is to ensure that change is driven by the aspirations of local community.
That is what the Vision for Three Kings is all about. It is an integrated policy platform that lets local people know exactly what approach a Roskill Community Voice Board will take to Three Kings issues. The Vision covers:
Our plan to Restore Big King, our neglected maunga
Our principles for a quality quarry development
How we ensure that Unitary Plan change delivers quality community outcomes
Protecting local heritage and character
If elected, the Vision ensu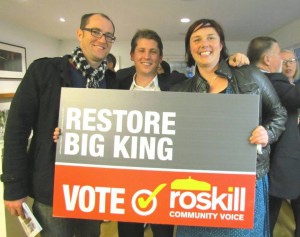 res that we have a plan to work to, and that there is clear accountability for what is delivered. Going into the election, people know what we stand for.
The launch was a great success. Graciously hosted by local resident Pip Mules, who is active with the South Epsom Planning Group and the Tree Council, we had a good crowd of highly engaged Three Kings locals, and some excellent discussions about development issues, and how we support local community.
Please have a read of the policy and let us know what you think! We also have hard copies of the policy to mail out if you like – just let us know on [email protected]. Finally, have a look at our neat "Restore Big King" signs. If you're in the area and would like one on your fence then let us know.