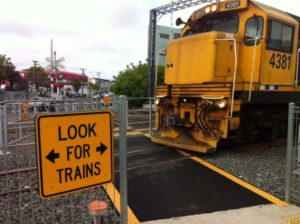 Graeme Easte of the Albert-Eden Local Board has been campaigning for almost ten years to have safety issues resolved at the 48 railway level crossings in the Auckland Region, particularly the 23 on the core commuter rail network. Each crossing represents a conflict point between trains and road traffic including cars, buses, cyclists and pedestrians. With increasing train frequencies and speeds these conflicts and the potential for accidents will only become worse. But until this year every attempt to get something done about this issue has met with blatant buck passing ("not our problem") to avoid the substantial expense involved.
Things changed in February when a freight train badly injured a woman in a wheelchair on the Morningside Drive level crossing (Kiwi Rail admits responsibility for accident 9 May 2013). Predictably the media initially treated this as a tragic story all about one woman in a wheelchair. With his considerable knowledge of the wider issue, Graeme was able to quickly reframe the story as a systemic conflict between trains and road users of all kinds – a conflict that will not go away until all level crossings are grade-separated (replaced with bridges or underpasses).
Although the Albert-Eden Local Board had moved at its very first meeting in late 2010 to seek a programme of action to grade-separate level crossings, by early 2013 Auckland Transport had barely begun to investigate the problem – and there was not one cent of actual project money in their budget. Graeme drew this to the attention of the Transport Committee, who resolved to make a start by moving funding forward by two years so that a detailed study could begin immediately.
That study will be completed soon and delivered to the incoming Transport Committee soon after the elections. Although there will be a series of short-term recommendations for minor improvements to the existing crossings, it is the long-term ones that will be most interesting as they will suggest that Council commit a significant stream of funding over many years. While the cheapest crossings might cost under $10 million to resolve, the average is likely to be about double that and some much more again. Even if we can only afford to deal with them one by one – at least that will represent real progress versus no action at all in the last decade.