Roskill Community Voice Media Release
24 July 2013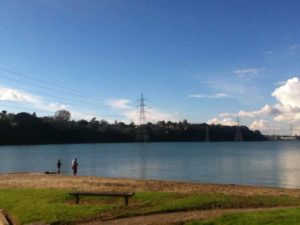 Huge Public Meeting Launches Bury the Pylons Campaign and Petition
"Saturday's Bury the Pylons public meeting in Hillsborough was so overwhelmed by support from the local community that the meeting room had to be changed to accommodate the crowd", says Roskill Community Voice candidate and Roskill South resident David Holm.
"Over one hundred and twenty people filled St Davids in the Fields Church hall to hear about the campaign and have their say. People spoke up about the fundamental unfairness of our community carrying the burden of massive high voltage power pylons through our nieghbourhoods and across the Manukau Harbour. We know that this simply wouldn't be accepted in suburbs along the Waitemata Harbour", says Roskill Community Voice candidate and Hillsborough resident Garth Houltham.
"Working with local MP Phil Goff we have now officially launched the Bury the Pylons petition. It is a formal parliamentary petition that asks all of the relevant stakeholders to come together and develop a responsible plan to bring down the pylons. Over the next three years Transpower will give central government over $500 million in dividends, so we know that it can be done", says David Holm.
"This campaign is fundamentally about fairness. Our community should have the same right to enjoy our properties and environment as any other. We believe that Roskill has been overlooked in many ways over the years, and we are saying that it is time for our community to get a fair go. We urge people to join the Bury the Pylons campaign and sign the petition", says Garth Houltham.
ENDS