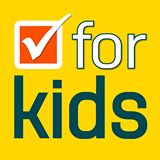 Media release from Every Child Counts
3 September 2013
Growing list of candidates support the Tick for Kids agenda
A growing list of candidates in the local government and District Health Board elections are signing up to the 'Tick for Kids' campaign, confirming their commitment to children to young people.  The first list of candidates has been released today to enable voters and the news media to see who has signed up. To enable voters to support candidates who have signed up to the Tick for Kids agenda, we will release an updated list when voting papers are sent out on 20 September.
"We are pleased to see that 77 candidates have confirmed their commitment to progressing the interests of children and young people and we encourage others to do the same.   Given that children can't vote it is important for candidates and voters to keep them in mind," says Dennis McKinlay, Chair of Every Child Counts and spoksperson for the Tick for Kids campaign.
"Among the candidates who have signed up current Mayors, councilors and DHB members alongside people who are new to local government and DHBs.  Candidates can sign up to the Tick for Kids at surveymonkey.com
"Local government and DHBs are obliged by the UN Convention on the Rights of the Child to ensure children's best interests are a priority consideration and they are well placed to ensure that children's interests are addressed in local communities.  Voters have the opportunity to ensure that their councils and DHBs are focused on our most vulnerable citizens – children – so that policies deliver the conditions that support child wellbeing," concludes Mr McKinlay.
Facebook: Tick for Kids
Tick for Kids agenda for local government
Candidates can sign up to Tick for Kids at https://www.surveymonkey.com/s/TickforKidsand  https://www.surveymonkey.com/s/TickforKidsDHB
The Tick for Kids campaign is supported by the following City Vision candidates (as at 2 September): Every Child Counts NZEI NZ Medical Association Nurses for Children and Young People Child Wellbeing Network
Local Government and District Health Board Candidates Signed up to Tick for Kids (as at 2 September)
Dr Cathy Casey –  Albert Eden Ward
Pippa Coom- Waitemata Local Board
Harry Doig -Puketapapa Local Board
Rohan Evans – Albert-Eden Board
Julie Fairey – Puketapapa Local Board
Glenda Fryer -Owairaka in the Albert-Eden Local Board
Helen Gaeta – Auckland District Health Board
Peter Haynes- Albert-Eden-Roskill Ward
Russell Hoban- Waitemata Local Board
Garth Houltham -Puketapapa Local Board
Will 'Ilolahia – Auckland District Health Board
Shail Kaushal- Puketapapa Local Board
Mike Lee  -Waitemata and Gulf Ward, Auckland Council
Lisa Loveday – Albert-Eden Local Board (Maungawhau subdivision)
Tricia Read e-  Waitemata Local Board
Michael Wood -Puketapapa Local Board
Deborah Yates-  Waitemata Local Board