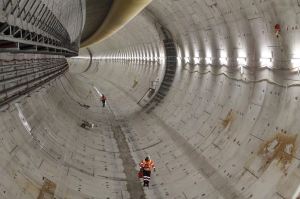 Update on Waterview
NZ's most expensive roading project is driving ahead. With $2.1billion being spent connecting motorways in Auckland, the environment and communities in its path are easy to overlook. While the cutely named Alice (the Tunnel Boring Machine) broke through the earth at Waterview in October 2014 after a 2.1km underground journey that took 12 months, the Albert- Eden Local Board have worked toensure the consent conditions are adhered to and mitigation is being delivered.
Mitigation money held by the Albert Eden Local Board tagged for Waterview has been spent on park improvements including development of a plan for Heron Park, funding new park paths, enhancing biodiversity through weed control and new plantings on the coastal edge, playground shade sails, a volleyball net and signage. Work is progressing on a heritage trail and more playground work.
It's a reminder of how local government needs to work hard to ensure the negative impacts of major infrastructure projects should be mitigated and elected representatives are critical to caring for communities and the environment.
Margie Watson, Albert- Eden Local Board