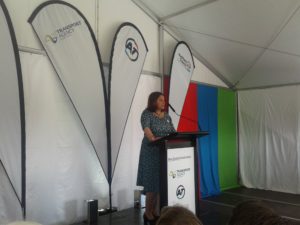 At the opening of the Waterview Shared path on 6 October 2017  Margi Watson spoke on behalf of the Albert-Eden Local Board. She acknowledged the many people and groups involved in the long battle to create community connections as part of a motorway project
Most Aucklanders think of Waterview as a tunnel but it isn't. Waterview and Owairaka are places of people, homes, historic places and Auckland's biggest urban waterfall. Waterview was also a David and Goliath battle of community and environment pitted against a Government & Council pushing for a motorway that would rip the heart out of several communities and deliver none of this path we are about to open today.
So all credit today goes to the people of Mt Albert, Owairaka, Avondale, Waterview and Pt Chevalier who came together to ensure there was something to celebrate at the end, a way of moving around Auckland that meant you didn't need to drive a car. So many people protested, marched the streets, attended meetings, signed petitions and went to court. It was a long and awful battle to make sure we didn't lose everything to a 1950's style motorway. This new path was 10yrs in the making. Groups such as Friends of Oakley Creek, Cycle Action Auckland (now Bike Auckland), Tunnel or Nothing, the North-Western Community Assn, local schools, local kindergarten parents, the Mt Albert Playcentre, community groups and residents all fought to stop, or bury, the motorway.
My exceptional thanks go to a team of volunteers who met for a long time and drove one of the final and compelling cases. That team included:
Phil Chase
Bill McKay
Peter McCurdy
Robyn Mason
Duncan McKenzie
Rob Black
Sir Harold Marshall
Wendy John, and Heather Wilkins.
And you never get far without a good lawyer so thankyou to three good lawyers who helped make this path happen – a compelling case for it was made by Douglas Allan for the Community and Rachel Devine and Kathy Wilson for the Albert-Eden Local Board.
To local residents and to Ian Clark who gave evidence in court and said that you can't build a motorway without giving Aucklanders transport options and that this walking and cycling connection was as important as an 11-lane motorway and 6-lane tunnel – good on you. It is so true.
And this path along with a number of other bridges, paths and facilities is part of the mitigation for that motorway. Everyone who walks and rides for work, school, fitness and leisure will benefit. Auckland will reap the benefits a very small group secured. SH20 Waterview couldn't be considered a transport project without connections for those above ground. As a result, we have more transport options – I do believe that decision has changed how NZTA have viewed their more recent motorway projects and it has pushed them to consider cycling and walking wins as part of their new builds.
I would also like to think this is about commitment to climate change action from NZTA and a message for the new Government coming together on October 12th. Investment in public transport and cycling and walking initiatives is crucial for our city, our country and the global community.
To the Albert-Eden Local Board for backing the community 100%, you are stars who know and support your community; And to our colleagues on the Whau Local Board who, like the Albert-Eden Local Board, contributed some funds towards this project to help create links that go further than were planned. Thank you
To Ken Clive, Rau Hoskin, Marcus Pillay and the Well Connected Alliance for your skill, input and going beyond the brief. The path is absolute stunner.
And to the residents of all the surrounding suburbs who have put up with construction noise lasting months through to 6 long years, you all deserve awards too. I hope that by Christmas life returns to a new normal.  
Lastly, considerable thanks to Judge Laurie Newhook and the Board of Inquiry Panel. You saw the community as important – and we won this path in the court decision contrary to the views of NZTA and Council – without you, today and this path would not have happened. We are so grateful.
And thank you in advance to the children of Collectively Kids. You are the future user and who we build this city and these paths for. We so appreciate that you will sing a waiata for us before we cut the ribbon.
I am so excited for this community and acknowledge every single person that did their bit to make this happen – thank you.
Related Reading 
Cycle infrastructure: the blessings are not evenly shared (and photos). Public address
Meet the backroom gang who brought you the Waterview cycleway.  Bike Auckland
Photos of the opening by John McKillop 
Video:  Auckland Transport's interview with Kathryn King at the opening
Final link in Waterview Shared Path opens: Auckland Transport media release