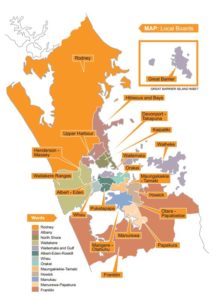 Nominations for the local government elections closed yesterday with all of City Vision's candidates successfully registered.
City Vision has nominated 34 candidates covering the Albert-Eden- Roskill Ward (Cr Cathy Casey and Peter Hayes), Waitemata & Gulf Ward (Cr Mike Lee – City Vision endorsed) on the governing body and full teams for Albert-Eden, Puketapapa (Roskill Community Voice) and Waitemata Local Boards, the Portage Licencing Trust and the Auckland District Health Board (City Vision Health).
Leading up to the first supercity election in 2010 City Vision made a strategic decision to campaign as a coalition of Labour, Greens and community independents within the old Auckland City Council boundary familiar with the City Vision identity but to also work with progressive teams and individuals across the Auckland region. Members of the City Vision family include Roskill Community Voice in Puketapapa and City Vision Health candidates standing for the ADHB.
This grassroots approach has proved successful over the last three years in making the super city work for local decision making and advancing a community focused agenda . City Vision policies and principles have had an impact across all of Council's strategies and plans starting with the vision of the Auckland Plan. City Vision has collaborated successfully across Council and embraced the Mayor's inclusive style of leadership.
City Vision intends to continue focusing on the Waitemata and Albert-Eden-Roskill areas and to support those teams and individual candidates who share our values and objectives. We are committed to keeping our assets, giving local communities a voice, giving our city a heart, and real transport choice for Aucklanders.
More details on City Vision candidates here
Policies and principles here
Full list of candidates standing for election in 2013 here on the Auckland Council website