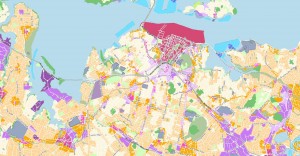 Day 4 of the Unitary Plan decision making marathon started at 9am this morning  going through till 7pm.
Significant gains were achieved for the Waitemata communities.   Mike Lee's motions, seconded by Sandra Coney (with strong supporting advocacy from Waitemata Local Board chair Shale Chambers) acheived:
much of Grey Lynn and Westmere being rezoned to the Single House zone from the proposed THAB or Mixed Housing Urban and Suburban.  This was supported by Councillors  as a precautionary measure pending a heritage and character assessment being undertaken.
the pre-1944 demolition overlay being retained in the proposed notified plan, with provision for RMA assessment of demolitions and possible notification
Great North Road west of Bond Street rezoned from Mixed Use zone (which allows large format retail as a discretionary activity – a decision we unfortunately lost 9-11 on Friday) to the THAB zone (up to 12.5m rather than 16m) in support of genuine future residential housing choice along the Great North Road ridge; and
a last minute officer proposal for a THAB B zone (17.5m high) block between Gladstone and Balfour Roads in Parnell was downzoned to the ordinary THAB zone of 12.5m high to preserve from area from the sense of too much height in such a prominent gateway location, especially in light of the possible Treaty settlement of adjoining Gladstone Reserve.
There were also some good results for Albert-Eden-Roskill today. Councillors agreed to Cathy Casey's motions (with advocacy support from Albert Eden Chair, Peter Haynes):
that Unitec will keep its "Special Purpose Education" zoning
the application of a wider application of single house zone between Dominion Road and Mt Eden Road: and
that Three Kings Quarry will keep its current "quarry" zoning.
A good day for genuine response to community concerns, at least for the Waitemata, Albert- Eden and Puketapapa communities, in the final draft of the Unitary Plan.
Further reading
Update from Day 3 – special school zones, big box retail and parking minimums