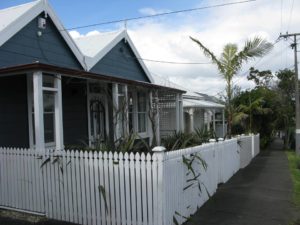 Significant developments from the Unitary Plan deliberations today.
Big box retail in the Mixed Use Zone 
The controversial proposal by Bunnings to build a development on Mixed Use zoned land on Great North Road has brought into the spotlight the undesirability of the big box retail format in areas that would be much more suitable for residential apartments/small scale commericial especially up against streets of character housing.
Cr  Cathy Casey and Cr Sandra Coney tried to front foot this issue in the draft Unitary Plan by moving an amendment to make large retail format greater than 450 sqm (Gross Floor Area) a non complying activity rather than a restricted discretionary activity as currently proposed.
Unfortunately this amendment was defeated 9 -11
NZ Herald Tougher controls on big box retail denied
Special school zones
In a surprising coalitition Cr Cathy and Cr Brewer successfully got a change in the Unitary Plan for school zones. Special educational zones for primary and secondary schools will now be put in place (as currently applies in the Isthmus District Plan) rather than residential zoning with a precinct overlay.
Strong community feedback showed that people wanted the special purpose zone as a buffer (requiring a plan change) before schools can subdivide land.
This amendment achieved unanimous support from Councillors
Minimum Parking requirements
Generation zero have run a spirited campaign to "Bin the Mins" and called on Councillors to remove minimum parking requirements from the Unitary Plan.
Cr Brewers amendment to actually INCREASE the rates was resoundingly defeated
An alternative amendment was put forward by Cr Michael Goudie seconded Cr Cathy Casey to decrease the rates in the Mixed House suburban for houses with 2 or less bedrooms and remove them in the Mixed House Urban zone. Although this was defeated the good news is that the Deputy Mayor has signalled taking this issue forward to the full governing body meeting with a proposal to at least remove minimums for 1 bedroom and studios in the Mixed House Urban zone.
Next steps
After three days the Auckland Plan Committee is only about half way through decision making on the final provisions of the Unitary Plan.
The Committee will meet again on Monday 2 September – Heritage is the next big issue to come
Further reading
Councillor's U-turn on house density, NZ Herald 31 August 2013
Residents involved in future of Ports, NZ Herald 31 August 2013  (A majority of councillors voted yesterday to make further reclamation of the Waitemata Harbour for port business a "non-complying" activity in the draft Unitary Plan pending the study.)