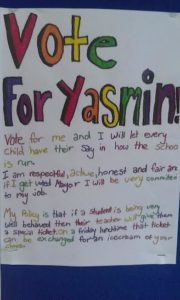 Schools and Boards of Trustees are very important in linking our communities together. Peter Haynes and Glenda Fryer have been visiting schools in Albert Eden to strengthen relationships with them.
At Epsom Normal Primary school pupils have been engaging in 'civic lessons' about local government. School teams have been studying what City Councils do and how they relate to their communities. Students ran for elected office and made promises about what they would do and how they would act as local politicians.  
The Albert Eden Local Board had its 
April business meetin
g at the school so students can see how local government works 'in action'  in a realistic decision-making setting.
In a special agenda before the meeting at 2pm students presented their ideas on how they would like to see Potters Park change and improve, as part of the Board's consultation with its communities.
Board Chair Peter Haynes and Deputy Chair Glenda Fryer say, "We are happy that school leaders and Boards of Trustees in the Albert-Eden area are really getting behind making sure students know what local government in Auckland does and how children and young people can take part in consultation in matters which directly affect them.
 We are also talking to schools about supporting sustainability and environmental initiatives and other local issues
"