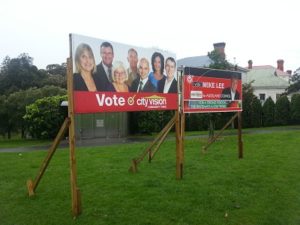 At election time it is a well-known right wing tactic to mount a smear campaign and spread misrepresentations especially when the going gets tough. This time however Greg Moyle (standing against Cr Mike Lee for the Waitemata & Gulf ward) is firing blanks – and with the wrong gun again.
Moyle started out fairly, looking to win votes based on his record of community service. But he also sought to take credit for the work of others and to claim as his achievements all the Auckland City Council legacy projects.
He then moved on to the tactic of denouncing Mike Lee's record but made the fatal mistake of not checking his facts, and clearly has no idea about how Mike has voted over the last 3 years.
Not content with smearing Mike Lee, Moyle has now set his sights on attacking the City Vision team on the Waitemata Local Board, claiming City Vision represents the "far left wing" . Moyle must be running out of ammunition if this sloppy name calling is what he comes up with (presumably he thinks "far left wing" will scare voters along the lines of "reds under the beds").
City Vision is in fact a coalition of Greens, Labour and community independents. Progressive people who have given the community a strong voice.  Another allegation that the Seafarers Union was the principle financial contributor last election is also completely untrue – no donation was received.
It is time for Moyle to come clean about what he really stands for instead of hiding behind the tag of "independent". He was elected as a C&R candidate backed by ACT and the National party. He represents the same-old, fractious C&R style local body politics that held Auckland back from reaching is potential for far too long.
Without a strong right-wing support base (having fallen out with C&R ) and having spent a great deal on his campaign, Moyle knows his political career is in the balance and is getting desperate for shots to fire. Unfortunately for him they have all been blanks and by all accounts he has a habit of doing this.
Further reading
Decision time for Auckland – Mike Lee's manifesto
Achieving results through team work – Waitemata Local Board results
Putting the record straight – 40km speed limit on Ponsonby Road