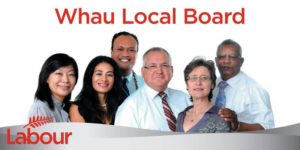 Media coverage of the Local Government Election in Auckland has been very poor. The suburban newspapers appear to have boycotted  the election altogether.   The lack of coverage is a disservice to democracy. It also makes it easier for incumbents to be re-elected.
The NZ Herald's contribution is to run a series focusing on each ward. This provides crucial information to voters. Today Lincoln Tan profiles the Whau Ward but invents a non-existent rift between the two component parts of the Ward and fails to acknowledge the existence one of the main candidates, Ross Clow the Labour candidate who is standing for Councillor against Noeline Raffills. The article also doesn't mention the Labour team standing for the Local Board including Catherine Farmer a long time community representative.
Although the Herald is correct that the ward brings together two distinct areas – part of the former Waitakere City Council of New Lynn and the former Auckland City Council area of  Avondale  the real story is that at the first Super city election in 2010 the former Finance Chair of Waitakere City Council Ross Clow was very close to beating  former  Auckland City Councillor Noelene Raffils. (Ross Clow got 7132 votes to Raffils 7518)
It is very unfortunate that at such a crucial time in the election the Herald has chosen to misreport the race in the Whau Ward. Mr Tan does at least acknowledge the fact that the ward has had a councillor missing in action, the now ex-CitRat Noelene Raffles, a long-time non-resident whose sole connection with the ward is the fact that her late husband was the headmaster of the local school.
We expect 'fair and balanced' reporting from the Herald.
Candidate profiles are available at Vote Auckland 
Whau Labour team on Facebook