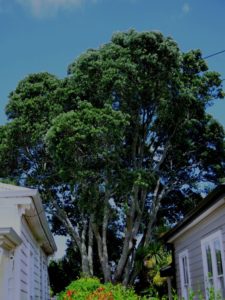 In 2009, the Government launched war on our urban forests by outlawing any general protections on trees on urban properties (under 4000m2) unless they are specifically scheduled for protection. When the Environment Court ruled to retain protections for trees in the 'character' Res 1 and 2 zones, the Government moved quickly in 2013 to strip even those trees of any general protection, describing this as a "minor [or] technical" amendment.
City Vision local boards led the way in 2011 in nominating trees for scheduling, with more than 900 scheduled trees in Albert-Eden's area, for example. But that's just a small fraction of the total trees in our urban forest. We have seen a lot of very old, large trees removed over the past two years.
Albert-Eden Local Board has called for a report on the impact of the Government's reforms, so that we know how much is being lost. It's also called on the Governing Body of Auckland Council to lobby the Government to rescind its attacks on urban tree protections.
You can do your bit too. Members of the public may nominate 'notable' trees for scheduling in the Unitary Plan (submission form available here). The deadline is 28 February, so if there are trees you think may need protecting, talk to your local board now, especially if you're in a City Vision local board area (Albert-Eden, Puketapapa and Waitemata).