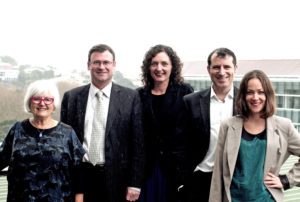 The three years of an election cycle go by very quickly. Nominations for those who want to stand for local elected office for Auckland Council will close shortly, political hoardings will appear on Quay Street and Western Park and other parks in our neighbourhoods, candidates will announce they will stand for office and seek your support whilst thrusting their leaflets into your hand with their promises for the next three years.  You will get your ballot paper through the mail halfway through next month to make your decision on who you want to represent you for Mayor, local Councillor and Local Board for the next three years.
The first term of the Auckland Council has seen some significant progress made for Auckland under the leadership of Mayor Len Brown and local Councillor Mike Lee.  A first; a single Auckland Plan, agreement and planning for a City Rail Link and a Harbour tunnel crossing, the fabulous Wynyard Quarter development and very importantly; rates restraint. At the local level, your Local Board has seen delivery of many projects; the Victoria Park Skate Park, the restoration of the historic Campbell Free Kindergarten and much admired Tepid Baths, the new Pt Resolution footbridge, the artificial playing turfs at Seddon Fields, and the Cox's Bay boardwalk.
In September you will be able to determine whether you think your local elected representative are on the right track towards the local community and Auckland you wish to see for yourself and your family, or whether there are issues not being addressed or you wish to see tackled differently.
Here in the Waitematā Local Board area, which covers all residents and businesses from Parnell to Westmere, the developing Wynyard quarter and City Centre and fringe to the metropolitan centre of Newmarket, there are normally two 'political tickets'  which vie for your votes.  City Vision, who are Labour, Green and Community Independents, and the former Citizens and Ratepayers, now rebranded as Communities and Residents, who are National and Act Party aligned.  Then there are always a few who decide to run on their own without overt political branding … .independents.
You may have read that the new era of Auckland Council has seen some changes to the political landscape and that the old established Auckland political grouping 'Cits & Rats' are having some difficulties attracting new candidates and their leadership  is pulling in different ways.  We have yet to see how that will play out locally here in Waitemata.
Who are the incumbents?  How will you judge how well the incumbents have served your community when you receive the ballot paper?
Locally there is one Councillor and 7 Local Board members to elect.
Three years ago you chose 6 members of the City Vision team – Mike Lee for Councillor and for the Local Board  this columnist, Shale Chambers, together with Pippa Coom, Jesse Chalmers, Christopher Dempsey and Tricia Reade – one C&R, and one independent.
One way you can gauge how the incumbent Local Board members have served you is to take a look at their 'achievements'.  A report on the last year's local board activity, like the two previous periods, can be found on the Waitematā Local Board page of the Auckland Council website www.aucklandcouncil .govt.nz.
Your City Vision-led Local Board team have been to the forefront of the debates within Auckland Council that affect your community, and have joined with our neighbourhoods and community groups to make gains that did not occur under the old Auckland City.  There are still things that need to be improved.   We all will know examples of that.  With the whole team of City Vision Local Board members elected we can make these improvements more thoroughly.
The importance of local democracy and the ability of locals to influence local government decisions and plans in the new Auckland Council structure continue to be critical to its ultimate success.  Local Boards will continue to play an important role in this.  Together we believe we have accomplished much for our inner city communities in this first short period of three years as the inaugural Local Board and we have many plans and projects for improvements to our inner city on the drawing board. These will require the same dedication, tenacity and hard work from your chosen Local Board elected representatives after October to see these through.
It's a great time to be an Aucklander.
Shale Chambers
A version of this post is published in the latest Ponsonby News
The Waitematā Local Board achievement report 1 July 2012 – 30 June 2013 is available here