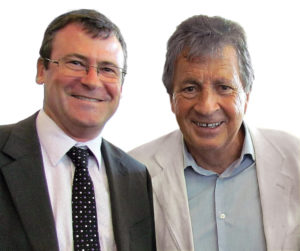 At the first super city election  former Auckland Regional Council chair Mike Lee swept away the opposition with a clear win.  Right-wing candidates Alex Swney and Tenby Powell were left in the dust with a combined total of 8761 votes compared with Mike's  11,436 votes.
In the NZ Herald feature on the Waitemata & Gulf Ward Heated battle for coveted 'capital'  (as part of a series running up to the election starting on Friday 20 September) the contest is described as between left-wing Mike Lee and "unreconstructed conservative" Greg Moyle.  This will be gutting for Rob Thomas who has been campaigning hard on the ground on the mainland and on the islands that make up the Waitemata & Gulf ward and who considers himself the natural challenger to Mike Lee.  Thomas has been quick to claim all of Board achievements as his own, however despite his self confidence, has struggled to find a strong support base to back his mayoral aspirations.
The achievements that Moyle claims are all from his time on the old Auckland City Council.  Many of the legacy projects were in fact only delivered through the work of Board Chair Shale Chambers (for example Shale secured the budget for completing the skatepark at Victoria Park).  Moyle is not able to point to one project that he has iniatiated and delivered during his time on the Waitemata Local Board.
In contrast Mike Lee has been working tirelessly, advocating tor the Waitemata & Gulf communities. He successfully battled for the electrification of our rail network, is an outspoken advocate for the City Rail Link and champion for the Parnell heritage station.
Mike Lee was also instrumental in returning the tram to the waterfront as the start of a wider network. As the Herald points out the America's Cup could be the catalyst for extending the  1.5km tram circuit from Wynyard Quarter to Britomart.
It is shaping up to be hotly contested  for a position at the Council table.  From the coverage in the Herald Cr Mike Lee is well on his way to retain the Waitemata & Gulf Ward.
The Waitemata Local Board contest didn't get a look- in in the Herald coverage of the ward but at the Meet the Candidates meeting in Parnell on Wednesday 18 September, Mike Lee said he strongly supported the impressive City Vision team.