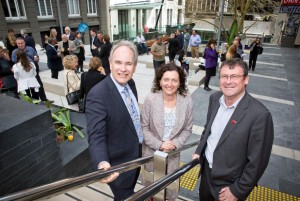 Upper Khartoum Place re-opened on 10 September  with new stairs connecting Lorne Street with the Auckland Art Gallery.
Deputy Chair of the Waitematā Local Board, Pippa Coom spoke at the opening to acknowledge those who fought to successfully retain the Suffrage Centenary Memorial as an integral part of the re-design.  In her speech (here in full) Pippa also acknowledged the role of Waitematā Local Board Chair, Shale Chambers' in pushing forward with the upgrade when it was in danger of being indefinitely postponed.
Pippa ended her speech with the proposal to rename Khartoum Place (named after an imperial battle that New Zealand actually refused to take part in) either Suffrage Place and or Kate Sheppard Place .  "Kate Sheppard Place" was enthusiastically supported by all those present including the Mayor and Margaret Wilson, past president of the National Council of Women.