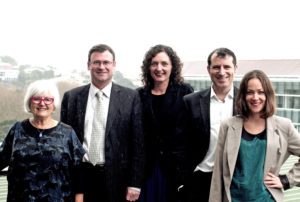 The mid term report of the City Vision team on the Waitemata Local Board. Published in October 2012.
Shale Chambers, Pippa Coom, Jesse Chalmers, Christopher Dempsey and Tricia Reade – we said that if elected we would establish a strong Waitemata Local Board that would stand with you and your community for a prosperous, secure, fair, and sustainable future.
Financial Management
Met community priorities within budget

Careful financial oversight of parks, libraries, community facilities and pools

Increased funding available for community grants
Heritage & urban design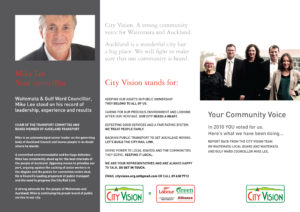 Focused on character, heritage protection and quality design standards.

Won the right for all notified resource consents and demolitions to be referred to local boards
 Arts & Culture
Providing strong support to public art and events including Art in the Dark, Grey Lynn Park Festival and Art Week

Won funding for the waterfront theatre development

We have encouraged and supported community art projects and programmes such as  community murals by Toi Ora and the art youth programmes at Art station.
Transport
Working with Auckland Transport to deliver community focused transport improvements: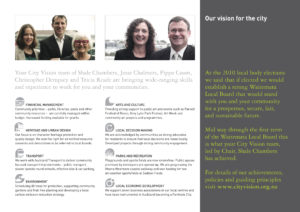 Traffic calming and slower speeds around schools

      Bike parking and cycle lanes

      Footpath renewals

       Effective parking management – St Marys Bay parking trial

       Improved public transport
 Environment
·         Won the scheduling of 80 trees for protection
Delivering on:
fruit tree planting and support for community gardens

Restoration of local streams

A localised carbon emission reduction strategy
Parks & recreation
Won the opening up of public spaces promised by developers in return for bonus floor space.

Declared playgrounds and sports fields smokefree

Won funding for 2 all-weather sports fields at Seddon Fields

Opening up the Weona Westmere public reserve with a coastal walkway
 Local Economic Development
Actively support 7 business associations

established the Eden Terrace business association

Instrumental in Auckland becoming a Fairtrade City
 Local decision making
 Acknowledged as strong advocates for residents to ensure local decisions are made locally

Reopened the restored Tepid Baths, and Campbell Free Kindergarten as a community asset

Developed and planned many new projects through strong community engagement