The resource consent hearing for Weona walkway gets underway today (the application is available here). Hearing commissioners will decide if the Waitemata Local Board can build a proposed 1.4km long coastal walkway on Westmere Park Reserve land  between Westmere Park, at the end of Westmere Park Ave and Lemington Reserve, accessible from Lemington Road .
Westmere is unique in the Waitemata area as being one the only section with public  reserve land providing continuous access to the coast. The reserve was included in the subdivision plans for Westmere in the 1920's (shortly after the Public Reserves Act came into force) and is Council land.
Unfortunately the reserve land was neglected over many years by previous Councils.  More recently neighbouring properties have encroached on the reserve and it is no longer possible to walk around the coast except at low tide.
The City Vision team made a commitment when elected in 2010 to open up the coast with a walkway and follow through on a proposal that community members had been seeking for sometime.  In June 2012 the Board voted to commit funds to the project and to go ahead with seeking resource consent (only member Greg Moyle voted against).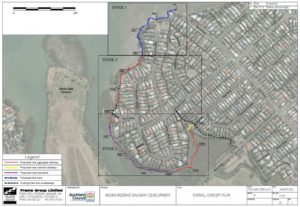 There is broad community support to complete the coastal walkway but a number of residents living adjacent to the walkway have strongly objected and want to protect their privacy and unrestricted access to the coast.
The commissioners will decide at the 3 day hearing if the impact on residents and the environment can be effectively mitigated so that the walkway can be constructed.
Shale Chambers, Chair Waitemata Local Board is project  champion.
Contact details here.
Further reading
Weona Walkway – details about the project on the Auckland Council website
Track divides a community – Auckland City Harbour News 22 June 2012
Walkway runs into strife – Auckland City Harbour News 29 June 2012
Weona Westmere walkway – a lasting legacy. Pippa Coom reports on her reasons for supporting the walkway (July 2012)