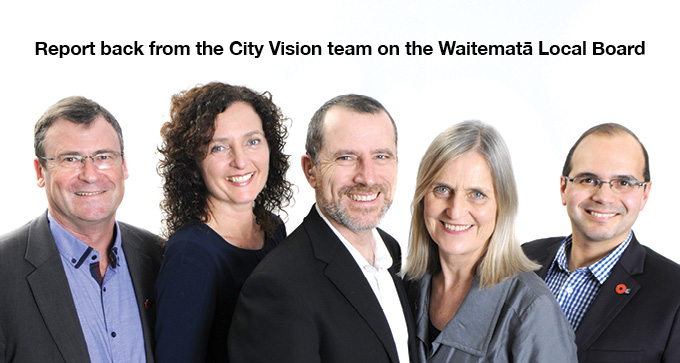 In 2013 you voted for us, here's what we've been doing
Report back of the City Vision team on the Waitematā Local Board and 
Waitematā & Gulf ward Councillor, Mike Lee
City Vision: A strong community voice for Waitematā and Auckland Council
Your City Vision team on the Waitematā Local Board: Chair, Shale Chambers, Deputy, Pippa Coom, Christopher Dempsey, Deborah Yates and Vernon Tava are bringing wide ranging skills and experience to work for you and your community.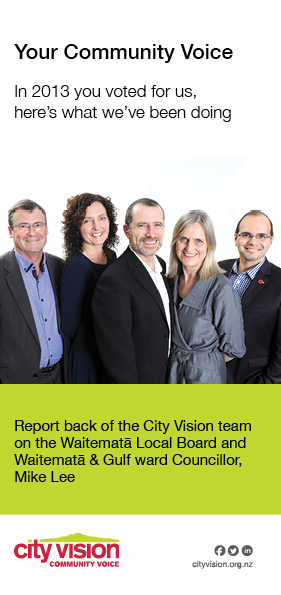 Financial management
         
Met community priorities within budget
         

Careful financial oversight of parks, libraries, community facilities and pools
  

Increased funding available for community grants
Heritage and urban design  

Won heritage assessments of central suburbs


Staunchly defending pre-1944 demolition protection, volcanic viewshafts and special character in the proposed         

Unitary Plan 
    

Stood with the community in opposing inappropriate development 
  

Championed quality design in our public spaces  
Environment  

Community empowerment
    
Arts and culture  
     
Providing support to local public art and events such as Grey Lynn Park Festival, Parnell Festival 


of Roses and the K' Rd child-friendly sculptures 
   

Refurbished Studio One Toi Tū on Ponsonby Rd
Transport  
  
Working with Auckland Transport to deliver transport improvements that make streets safer
    

Championed a massive increase in funding for cycleways 
     

Ensured the impending delivery of city fringe residential parking zones
Parks and recreation 
   
Led major rejuvenation of Myers Park including: playground, lighting, safety and entranceways 
         

Upgrading local playgrounds: Costley, Tole and Salisbury Reserves completed; Coxs Bay, Tirotai Reserve, 


Grey Lynn and Western Parks happening soon
    

Declared all parks smokefree
        
Opening up access to the coastal environment. Weona-Westmere walkway stage one complete, stage two under construction
Local economic development
   
Actively support seven business associations and local economic initiatives 


Supported and helped fund Parnell Inc. (Business Improvement District) expansion
A complete record of the Waitemata Local Board achievements are published annually.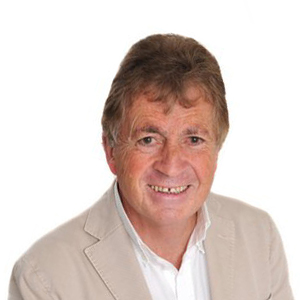 Mike Lee your Councillor for Waitematā and Gulf ward on Auckland Council 
Mike is a strong advocate for the people
Waitematā and Gulf Councillor, Mike Lee stood on his record of leadership, experience and results.
He is Chairman of the Infrastructure Committee, the WW1 Centenary Memorial Working Party, the Heritage Advisory Panel and is a director of Auckland Transport.
Mike is an acknowledged senior councillor on the governing body of Auckland Council and leaves 
people in no doubt where he stands.
He is Council's leading advocate for better public transport, the Central Rail Link and for bringing light rail (modern trams) back to the city; and also for the protection of our built heritage. He is an outspoken critic of what he sees as the 'Super City's' financial profligacy, its excluding the public from decision making and for its weak approach to heritage and environmental protection. He is a leader inside the Council in the battle to stop Ports of Auckland 
reclaiming the harbour.