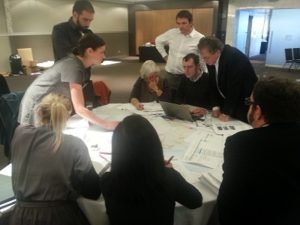 The City Vision led Boards of Waitemata and Albert-Eden were the last standing at an all day workshop to consider proposed zoning changes in the draft Unitary Plan.
Deputy Mayor Penny Hulse introduced the joint planning workshop for local board members and councillors.
"We always knew the draft would not be 100 per cent right and that we needed the creativity and wisdom of Aucklanders to shape a better plan. That's what the process has been all about.
"Now we are trying to get as much agreement as possible so the notified version of the Unitary Plan more closely aligns with community expectations when it goes out for formal consultation. This will allow people to check the changes we are making and have another say."
Key topics covered included:
heights in centre zones
heights in terrace housing and apartment zones
principles for heights in sensitive volcanic view shaft areas
suggested new approach for mixed housing areas
A further joint mapping exercise will be held on 2 August.
Information on the draft Unitary Plan and the process is available on the Auckland Council website shapeauckland.co.nz