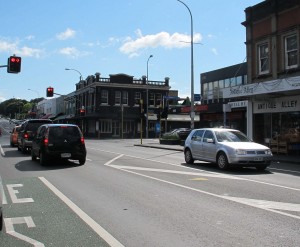 Dominion Road carries more people in buses than in cars! Making it even more effective as a bus transport route is a major focus of the upgrade that will start early in 2014 – but people are to the fore as never in the past.  Gone are the days when the car is king in our city, as in the plans inherited from the Banks mayoralty that would have turned Dominion Road into a two-lane racetrack.
The village centres are going to get special attention, aiming to reflect the unique feel of each one in their streetscape design.  There will also be many more safe places to cross the road, and safer crossing of side roads.  Although general traffic will only have a single lane down much of Dominion Road at peak times, research shows that a steady stream of vehicles moving at an even pace is actually more efficient (and easier on the nerves) than two lanes of traffic alternating between fast and stop as frequent lane changing interrupts the flow. Dominion Road's grand status can now return, refreshed and renewed and much more people-focused – while serving its transport function better than ever.
What is set to happen now, involves little demolition or loss of private property.  City Vision Local Board member Graeme Easte, the Board's transport spokesperson, has been involved at every step, and the Board's arts portfolio holder Helga Arlington has been invited to the discussions to keep an eye on public art in the road – to start appearing soon.
Your City Vision Local Board members have also been very involved in the design and location of the alternative cycle routes, East and West of Dominion Road.  These will offer a safer and quieter option for cyclists – including school children – to avoid the busy traffic on the main road, and will start early in the new year.
Dominion Road is an Auckland Transport project but City Vision local board members have influenced design details significantly.
Helga Arlington & Graeme Easte
Read more