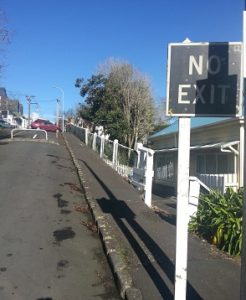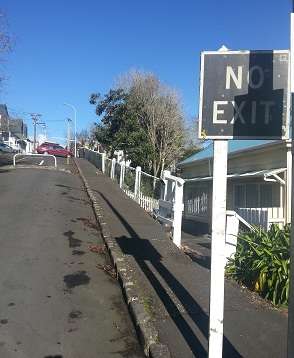 Living Streets Aotearoa has been advocating for changes to No Exit signage around our streets.  No Exit street signs are there to indicate to vehicle drivers there is no exit but don't reveal if there is in fact accessway for walking and/or cycling. This is common around our inner city suburbs – streets with No Exit signs  that have through routes include Arthur Streets exit to Ponsonby Rd, Westmoreland Street, Samoa House Lane, Tasman Ave and Cheshire Street to Gilbratar Ave.
There is an international movement to have the No Exit signs enhanced with pedestrian and cycling accessway information. Here is the European signage solution.  In New Zealand it is proposed that a walking person and/or cycling person symbol on a transparent sticker is attached to the No Exit sign to indicate a through route.
Andy Smith Living Streets president asked me to request Auckland Transport to consider how these important active travel connections can be made visible.
Today Auckland Transport came back to me with this positive response:
Auckland Transport supports the concept of a permeable network for all users and is pleased to inform the Local Board Member that good progress has been made in improving 'on the street' information for pedestrian and cyclists in relation to the existence of access ways from cul-de-sacs.  

The draft Auckland Transport Code of Practice has a requirement that all new 'No Exit' street signage must include an indication that there is an access way from the street if one exists. Whether the image is a separate sign below the street sign or is to be included on the actual street sign is yet to be decided.

A programme for retro-fitting signage on existing cul-de-sacs is being explored through road maintenance programmes.

 We would like to thank the member and the President of Living Streets Aotearoa for promoting this concept to improve the amenity for pedestrian and cyclists on Auckland's streets.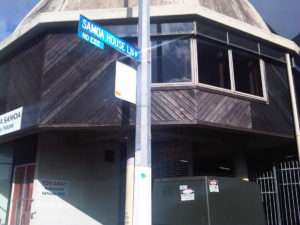 It is great that Auckland Transport is on to this project and has recognised the benefits to Auckland
I will now be following up to make sure the installation happens as soon as possible.  Seen a street that needs access signage? Let Auckland Transport know directly by logging it either online or by calling 355 3553
Pippa Coom, Transport -West Transport Portfolio, Waitemata Local Board