As part of the Waitemata Local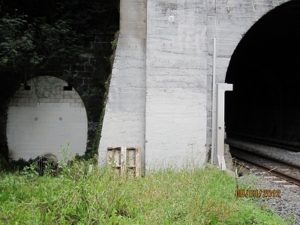 Board's Greenway Plan, I've  championed for investigation into opening the closed Parnell rail tunnel (an original rail tunnel immediately adjacent to the present day tunnel) so that a Greenway could be created between Newmarket and points downtown, such as Beach Rd, or the Grafton Gully cycleway (once completed).
This would mean residents from Newmarket  being able to walk or cycle for part of the way into town on an off-road path without having to negotiate busy Broadway and Parnell Rd – a very attractive option for many! An engineers report commissed by the Board has recently confirmed the suitability of the tunnel for a pedestrian path and cycleway, subject to several constraints that need to be managed. The engineers report the old tunnel is in really good condition.
The difficult part will be creating the Greenway leading to and from the tunnel. This will require a strong collaborative approach with participation from all organisations and individuals who have an interest in the area. This is achievable, and the outcome would be an impressive addition to the Greenways network in Waitemata.
The tunnel itself dates from late 1870s, and has an interesting history. See here: http://en.wikipedia.org/wiki/Parnell_Tunnel
Christopher Demspey